---
State Historic Preservation Office
Review and Compliance
---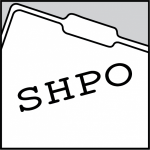 The Utah State Historic Preservation Office provides advice and guidance to government agencies who undertake projects subject to Section 106 of the National Historic Preservation Act of 1966 (NHPA) and Utah's cultural resource law under. Utah Code Section 9-8-404.
SHPO consults on projects purview to historic preservation laws to ensure federal and state projects don't compromise or destroy cultural resources. Projects include construction, rehabilitation, demolition, licenses, permits, loan guarantees, transfer of federal property, etc.
State and local governments and others using federal funds are also required to comply with Section 106.
Contacts
Archaeology - Chris Merritt, 801-245-7263 State Historic Preservation Officer
Historic Buildings - Chris Hansen, 801-245-7239 Sections 106 and 404 Compliance