Meet Sally Wither, a Vernal local, who is passionate about volunteering, education, and spending time exploring the unique trails around Uintah County.
Sally Wither was born and raised in Steamboat Springs, Colorado. She started out her career in education and taught history for quite some time, eventually moving to Montana to teach as well. Sally also fell in love with Biology and had some science teaching experience after completing her degree. However, it wasn't teaching that brought her to Utah. It was her interest in volunteering and contributing to different communities.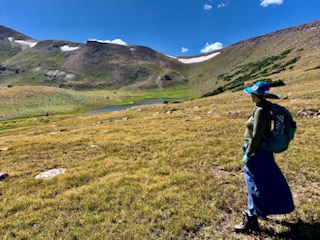 Upward Bound is a federal educational program for youth. The program coordinator position opened up at the Ute tribe's charter school, Uintah River High School back in 2002. Sally was a perfect fit, not only with her background in education but her passion for volunteering as well. Her position allowed her to work with the Ute reservation, organize the educational programs, and manage the volunteers. After some time with Upward Bound, Sally went back to teaching History and Science at the high school level for the remainder of her career.
Sally is an avid hiker and truly enjoys spending time outdoors. You can find her flat water kayaking in the summer months and cross country skiing in the winter. Another activity you can find Sally doing in the winter is judging ski jumping competitions at the national level. Growing up in Steamboat, her father was a ski jumper in the 1920s and 1930s, so she has been a part of the community for a lot of her life. Ski jumping takes her back to Steamboat for competitions, as well as Park City, and a few other states that have the ski jump facilities.
It is no surprise that Sally found her way to the Utah Cultural Site Stewardship Program with her background and volunteer work. As soon as she heard that there was an in person training in Vernal, she was there and ready to go. The UCSS Program has the flexibility for Sally to steward on her own time or participate in special projects when she is available. She is able to give back to the past and descendant communities, while also appreciating the beauty of the environment around her and the artistic elements that can be found in archaeology.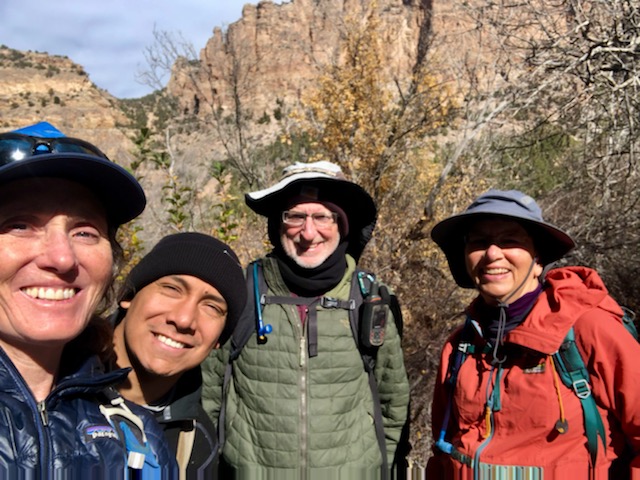 Sally's advice to other stewards and those visiting archaeological or cultural sites is to be aware of your surroundings. Do not touch certain elements of archaeological sites, make sure you are not standing on archaeological features of a site, always put artifacts back and think about the impact you could have on a site. There are so many people enjoying these areas, and the number of site damage caused by those who just aren't aware of what they are doing is very high. Education and understanding is critical in the protection of the history here in Utah.
Next time you're in Vernal, reach out to Sally and join her on a nice hike or chat about ski jumping with her! Either way, you'll have an amazing time chatting with her. The UCSS Program is very lucky to have Sally as a volunteer and we truly appreciate her contribution to the program and her effort to help safeguard Utah's history.