I'm Elizabeth, Public Archaeologist at the Utah State Historic Preservation Office. I'm here to make sure that the people of Utah know about all of the incredible history and irreplaceable archaeology that we have here in the State. I run the Utah Public Archaeology Network that brings together people and organizations across the state to work together on projects to protect and preserve Utah's archaeology. I earned my Master's Degree in Archaeology and Cultural Resource Management from Utah State University; I used tree-rings and radiocarbon dates to investigate behavioral patterns of the prehistoric Fremont of the Uinta Basin, and I still like to incorporate tree-ring dating into my research.
I live in a small town in the Heber Valley with my husband, son, and dog. We spend a lot of time hiking in the High Uintas and doing the usual backcountry Utah stuff: paddleboarding, cross-country skiing, and driving to different parts of the state to see cool archaeology!
---
Ian Wright

iwright@utah.gov
Phone number in the works


Utah Cultural Site Stewardship Coordinator
Howdy! I'm Ian Wright, the new Cultural Site Stewardship Coordinator for the Utah Division of State History. I grew up in Salt Lake City, but our family also spent a great deal of time in Utah's West Desert. This is where I gained an appreciation and understanding about the value of protecting our unique cultural resources. 
I attended Snow College, and then Southern Utah University where I received a degree in history. After performing archaeological work throughout Utah and Nevada, I shifted into the energy education sector, directing nationwide community education programs and developing strategic partnerships for one of the nation's leading nonprofit organizations in energy education. During that time, I earned a Masters in Arts and Community Leadership from Westminster College while continuing to maintain one foot in the world of archeology by participating in field work and chairing my city's Historic Preservation Board. 
I currently live in Salt Lake City with my wife Tyra, one-year-old son Conrad, our dog Buffalo and a DNR-adopted desert tortoise named Winston. Outside of work I can be found in my woodshop or out visiting archaeological or cultural sites that I have read about. I look forward to working with you!
---
Erin Haycock

Public Archaeology Intern
I am the Site Stewardship Intern, and started working for SHPO in 2019, with hopes to start a graduate degree in fall 2021. I graduated in 2019 from Utah State University with a Bachelors in Anthropology.  I do public outreach and engagement, with a focus on education to incorporate archaeology and its principles into K-12 curriculums. In my free time, I do kickboxing, archery, and creative writing. Three of my top items on my bucket list are to finish writing a book, go scuba diving in Indonesia, and owning enough books that I need those library shelves with the attached sliding ladder.
---
Hi everyone! I'm Deb, the SHPO Records Manager. My team and I maintain the archaeological and buildings spatial data for consultants, agencies and the general public. While most of my work is behind the scenes, I love to get out into the field when I can and to help out with public events. My degree is in Anthropology from the University of Utah with a GIS Certificate.
In my spare time, I have a passion for creating and let that flow with sewing, quilting, drawing, and playing ukulele. My husband, two daughters and I love to travel, hike and camp. We live for escaping to the desert or the beaches of the Paciffic Northwest.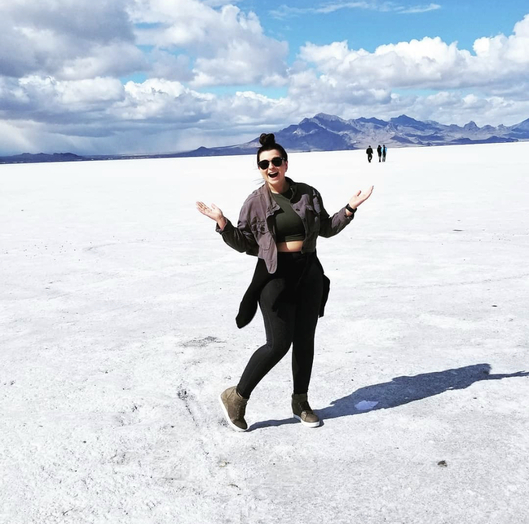 Mackenzie Quinn
Social Media Specialist
Hey everyone! I'm Mackenzie Quinn, newly married and excited to call Salt Lake City my home! As the Social Media Specialist, I'll be bringing you along for the ride as I adventure with SHPO to ancient sites and local treasurers! Sharing the history and everyday adventure of local life is something I take with me everywhere I go thanks to my show History in the Making featured on Amazon Prime, where I have the pleasure of meeting so many amazing faces and places with stories to tell.
Be sure to message me and share your favorite Utah spots to visit so we can share them on the SHPO social media pages!
Chris Merritt
cmerritt@utah.gov
801 245-7263
Utah Historic Preservation Officer
As the Utah State Historic Preservation Officer, and an archaeologist, I'm excited to be a part of the Public Archaeology team! In addition to archaeology, my team also includes architectural historians, architect, and historic preservation specialists, bringing all the pieces together to promote preservation of our collective past. I received my doctorate from the University of Montana, with a Masters' of Science in Industrial Archaeology from Michigan Technological University. My research passions are on the Chinese contributions to the American West's history, industrial heritage, and pretty much everything old. My off-hours are spent with my wife...but oftentimes still doing archaeology!
---