Meet Garfield County stewards John and Marsha Holland. Both have been involved in site stewardship for years and we are so happy that they have stuck around through the Utah Cultural Site Stewardship Program's development. Although stewarding is a big part of their life, John and Marsha have a long list of skills that make them such a unique addition to the program.
---
John was raised in the Salt Lake valley and has spent most of his life in Utah, while Marsha was born in California and was eventually drawn to Utah's greatest snow on earth. The first time Marsha was in Little Cottonwood Canyon for a ski trip, she was unable to make it up the canyon due to an avalanche closure, something we experienced at a record high this year. When the canyon finally opened, she was intrigued as she drove through avalanche debris paths 20 feet deep on the way to the ski resort. The experience brought her back for more.
It wasn't long before Marsha was back at Snowbird Ski resort as a ski patroller and met her best friend John. John got a job as a chef at Snowbird a few years after it had opened, got well known around the resort and made his way to the ski patrol staff. After years of skiing together, they tied the knot and moved back to California and started their family. Eventually, they moved back to the rural town of Tropic, Utah to complete raising their kids and retire.
---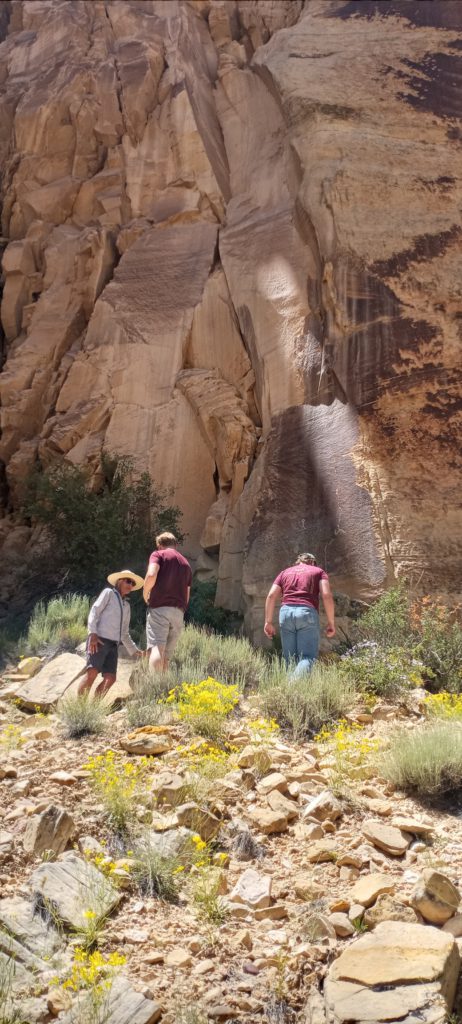 Today, John and Marsha spend their time hiking, camping, fishing, occasionally mountain biking, skiing, gardening, and cooking. They enjoy cooking so much that when this interview was being done, fresh bread and brownies were being made as we chatted. It was unfortunate that the meeting was virtual. John and Marsha both have a passion for the outdoors and some special areas in Utah like Grand Staircase-Escalante National Monument. Grand Staircase is where they began stewarding and they experienced the change in pace in that area of the state. John was a board member for the Utah Office of Tourism and helped develop the interpretation along Scenic Byway 12. Marsha, using her background as a historian, conducted some oral research to support and bring attention to communities around Grand Staircase experiencing tourism growth. John and Marsha wanted to become a part of the community and help preserve the history.
John and Marsha can always be found outdoors and can always be found together. Beyond preserving the stories of Utah communities, stewardship is another activity that can bring them closer together. Some advice they provided for other couples who steward together, include; remembering that it is all about teamwork. You want to help one another reach your goals. John stated that stewarding can easily be taken for granted. They feel very lucky to have a best friend to adventure with and to have a partner who shares their passion for history and preservation.
We can't thank John and Marsha enough for the experience, passion, and fun they bring to the UCSS Program!